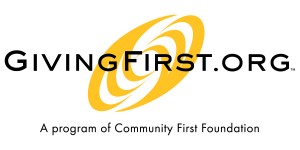 After successfully navigating a rigorous screening process, GivingFirst.org has added Walking Mountains Science Center to its list of non-profit organizations that are worthy of philanthropic support. GivingFirst.org is a program of Community First Foundation, a non-profit whose mission it to improve the quality of life in Denver and surrounding areas. By helping hundreds of organizations raise awareness online, Community First Foundation's goal is to provide greater support to organizations like Walking Mountains Science Center that are essential for protecting and nurturing the quality of life in Colorado.
In order to be accepted, each organization must submit a comprehensive profile that includes detailed information about its leadership, staffing, governance, mission, programs, and financials. You can view our profile here: http://www.GivingFirst.org/WalkingMountains
You can contribute to Walking Mountains by clicking on the DONATE NOW button, and GivingFirst.org will send your entire gift to us without charging us any credit card fees! We are pleased to be part of the GivingFirst.org network and hope that you and your friends will continue to support Walking Mountains Science Center with confidence and enthusiasm.