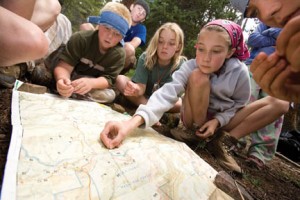 Have you ever gone on a treasure hunt?
Have you deciphered cryptic clues to reveal the secret solution taking you on trails untraveled and forests unfounded?
These days, there might not be a lot of pirate gold to find, but there are still treasures to be uncovered. There are modern versions of treasure hunts going on all around us, in the newest craze to sweep the nation called Geocaching. Geocaching involves using a GPS device to locate particular coordinates that lead to a hidden "cache", or treasure. From the website, Geocaching.com, "Geocaching is a real-world outdoor treasure hunting game. Players try to locate hidden containers, called geocaches, using GPS-enabled devices and then share their experiences online."
Geocaching is like a giant game of hide and seek, and you can choose if you want to hide or just seek. It's best to start as a seeker in order to get the hang of the game. You can register on the website for free, and search for Geocaches hidden in or near your home by zip code. Caches are rated based on both on the difficulty of finding the cache and the challenge of the terrain. A typical cache includes a container with a logbook and an item for trade. Seekers are supposed to take the item and replace it with something of similar or greater value, and to sign into the log book, of course. Seekers can then report online on their experiences and read about those of other seekers.
As an internationally recognized activity, there are literally millions of geocaches hidden in locations around the world. Over the years, numerous types of caches have sprung up, including some designed to encourage litter pick-up, provide educational information, and to announce geocaching events and "mega-events". Keep reading; there will be more to come on some of these specialty caches and other exciting ways to play with geocaching.
Find Geocaching Apps for your mobile phone and take the game on the road!
Author: Jaymee Squires