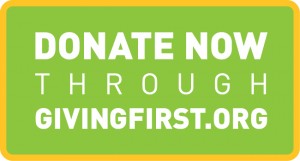 The third annual Colorado Gives Day takes place on Tuesday, December 4th, beginning at 12 am and continuing for 24 hours. Last year, the single biggest day of giving in Colorado inspired the generosity of thousands who donated $12.4 million on line to their favorite local charities. Colorado Gives Day is a project of GivingFirst.org, an on line resource created by Community First Foundation that profiles Colorado non-profits and encourages charitable giving by providing comprehensive, objective, and up-to-date information about hundreds of Colorado organizations. In order to be eligible to participate, Walking Mountains had to submit a detailed profile for approval that includes mission, governance, programmatic, and financial information that is now posted on the GivingFirst.org website: www.GivingFirst.org
Every single dollar donated to Walking Mountains on Colorado Gives Day, from midnight to midnight, is eligible for a boost from the FirstBank Incentive Fund, increasing the value of each contribution.
"We are thrilled to be a part of the third annual Colorado Gives Day. As a Colorado nonprofit, we recognize the value of bringing local communities together in support of the charitable sector – and Colorado Gives Day is an ideal outlet for raising awareness of the need to support organizations like ours," remarked Markian Feduschak, Executive Director of Walking Mountains.
Colorado Gives Day is an incredible opportunity for everyone to make a positive difference in the lives of people in our community. For Walking Mountains, the money raised will translate into enhanced natural science education for over 3,000 Eagle County students who participate in field studies and summer science camps and for 20,000 visitors to the Nature Discovery Center on Vail Mountain and Vail Nature Center. Remember to "give where you live and where you play" by visiting www.GivingFirst.org/walkingmountains to schedule your donation in advance for Tuesday, December 4th!
This year 20 local non-profits are collaborating to spread the word about Colorado Gives Day, find your favorite online at: www.EagleCOGives.org

New to the Science Center? Stop by and visit us at our new campus. We are open Monday through Saturday, 10am - 6pm, admission is free to the public.