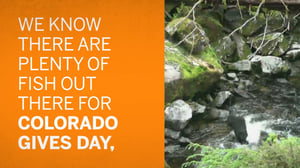 Beginning tonight at midnight you can give to your favorite Colorado charities online in a fast, safe and secure manner. The Community First Foundation and FirstBank have teamed up to provide non-profits with ColoradoGives.org - a website where you can find comprehensive nonprofit profiles and donate easily online. Tomorrow your giving dollar will go further as FirstBank is offering a $600,000 incentive fund. These additional dollars will be proportionately allocated across all donations received in this 24 hour period increasing the value of each individual gift. Local dollars will also be boosted by the Eagle County Incentive Fund!

Colorado Gives Day is an incredible opportunity for everyone to make a positive difference in the lives of people in our community.
For Walking Mountains Science Center, the money raised will translate into enhanced natural science education for over 3,000 Eagle County students who participate in field studies and summer science camps and for 20,000+ visitors to the Nature Discovery Center on Vail Mountain and the Vail Nature Center.
Colorado Gives Days is an initiative to increase philanthropy in Colorado through online giving
You have 24 hours to give where you live
100% of each donation goes to charity
Today your dollar goes further! $600,000 FirstBank incentive fund proportionately allocated to all donations received.
Presented by Community First Foundation and FirstBank
Donate online at www.coloradogives.org/walkingmountains. You can pre-schedule your gift in advance NOW.
Donate to Walking Mountains Science Center online at coloradogives.org TODAY.
Thank you Community First Foundation and FirstBank for this incredible resource!