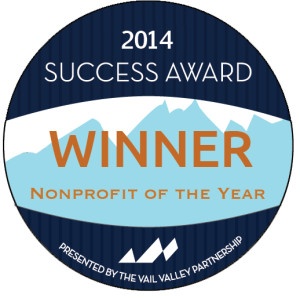 Avon, Colo. May 19, 2015 – It's an exciting time to be a nature nerd in the Eagle Valley. The Vail Valley Partnership (VVP) named Walking Mountains Science Center the 2014 Nonprofit of the Year at their 12th Annual Success Awards held at the Eagle-Vail Pavilion on Friday, May 15th. The local community nominates nonprofits and the winners are chosen by a committee made up of last year's winners.
"We're honored to be chosen as the 2014 Nonprofit of the Year, especially with the high-caliber of nonprofits that were nominated (Colorado Mountain College, Bright Future Foundation)," said Markian Feduschak, President of Walking Mountains Science Center. "We are fortunate to be fulfilling such an important mission in our community, and our dynamic staff make our mission possible. This award is a testament to the exceptional staff, volunteers and board members on our team."
Walking Mountains continues to expand programing, most recently with a Memorandum of Understanding (MOU) with Eagle County Schools, the addition of the nonprofit Eagle Valley Alliance for Sustainability (EVAS), along with taking on the management of the Vail Nature Center. These additions allow Walking Mountains to provide more hands-on science programs, energy conservation programs, zero waste event services, and business sustainability certifications along with a third location to run outdoor natural science education, to name a few.
"We are always looking for ways to expand the reach of our mission and the MOU with Eagle County Schools; bringing all the programs of EVAS and the Vail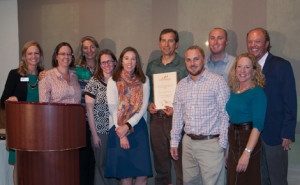 Nature Center under our umbrella just made sense. We're pleased that our peers and community have recognized all our hard work over the past year," said Markian Feduschak, President of Walking Mountains Science Center.
2014 - By the Numbers
30,000 people served
4,448 students served and 57,840 contact hours via school programs and summer science camps
1,000 public programs offered to the Eagle Valley community
$1.5 million economic stimulus sparked by Energy Smart Programs
21,245 sustainability messages shared with locals and visitors
Click here to learn more about the VVP Success Awards.
About Walking Mountains Science Center
Walking Mountains Science Center's mission is to awaken a sense of wonder and inspire environmental stewardship and sustainability through natural science education. Visit www.walkingmountains.org or call 970.827.9725 for more information.
###