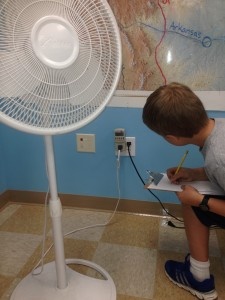 It's Thursday after school, and a group of 4th and 5th grade students huddle around a Kill-A-Watt meter diligently recording how much energy a classroom fan consumes when it's running. At Brush Creek Elementary, 4th grade science teacher Drew Musser goes above and beyond his regular teaching responsibilities to help this special bunch of students make a difference at their school.They call themselves B.E.S.T., the Bobcat Energy Saving Team.
They are part of a growing company of teachers and student leaders in the Eagle Valley collaborating with Walking Mountains Science Center to take the Eco-Schools challenge and problem-solve ways to save energy and reduce waste in their schools. These task forces or Eco-Teams work tirelessly to make their schools and our community more sustainable.
Schools in the US can be big energy consumers and waste producers. According the National Wildlife Federation (NWF), "Schools spend more money on energy than textbooks and computers combined and thirty percent of the energy used in buildings is often used inefficiently or unnecessarily." Eco-Team members think that conserving energy and reducing waste is the responsible thing to do for the environment, as well as the smart thing to do for their schools' pocketbooks. For a school district that spends more than $1 million annually on gas and electric bills, even a ten percent reduction could add up to big savings.
Because of his passion for learning and commitment to sustainability, last spring Musser obtained his Energy Master Certification through the CSU Extension and Eagle County. "That 9-week program provided an unbiased, comprehensive overview of energy challenges, potential solutions, and individual choices. The Bobcat Energy Saving Team and my classroom science teaching provide me with an opportunity to share the immense knowledge I gained through that program," says Musser.
In order to achieve the internationally recognized Eco-Schools award from the NWF, Musser and his team have an ambitious agenda for the 2015-2016 school year. They have already conducted an energy audit of their school, including identifying phantom power drainers and have completed an inventory of current recycling and composting habits. They developed an energy saving checklist for classrooms and will be giving presentations to their fellow students to put their plan into action. They are working with the school's greenhouse program to ramp up composting efforts in the cafeteria, as well as to improve recycling collection, including batteries, at the school.
Musser says, "Education is paramount, so we intend to develop pieces that the student body can take home to share with their families. Topics will include everything from energy conservation at home, rebates available to homeowners, and sustainability practices."
In the process of becoming an Eco-School, students are gaining valuable communication and leadership skills. According to Musser, "Many of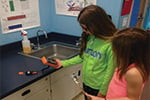 our conversations involve the use of motivational strategies and tact to encourage others to change their habits." Additionally, Musser says, "the students are very excited about the B.E.S.T. programs; young people are so passionate about projects they get behind."
To support the efforts of teachers like Musser, Walking Mountains Science Center provides help facilitating the Eco-Schools program and connecting schools with community resources. Walking Mountains is also offering $1000 mini-grants for K-12 schools that commit to earning an Eco-Schools award focused on energy conservation. Teachers may use the funds to purchase tools or resources, to implement specific actions, or for field trips related to energy conservation. Schools may also utilize a portion of the grant to compensate teachers for their time. To apply for the grant, click here.
Along with Musser at Brush Creek, teachers at Red Sandstone, Avon, June Creek, Edwards, and Red Hill Elementary, Gypsum Creek Middle School, Stone Creek Charter, and St. Clare of Assisi have committed to the Eco-Schools program and are receiving mini-grants for the 2015-
2016 school year.
In addition to the amazing effort put forth by these admirable students and teachers, this program is made possible by Walking Mountains Science Center's vision for sustainability in the Eagle Valley and generous financial support from a Vail Resorts Epic Promise grant and Eagle County's Eco-Build Fund. You can learn more about the Walking Mountains Eco-Schools program by clicking here.