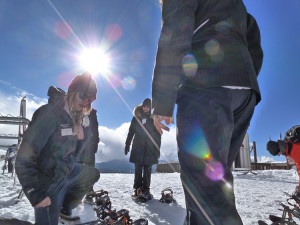 The snow is falling in Vail and according to all the snow forecasters, this season should be rife with opportunity for some excellent backcountry snowshoeing. Brand new this year, guides from Walking Mountains Science Center, the same folks who you saw logging over 500 miles on the trails this summer, are returning for the winter to guide backcountry snowshoe hikes. The hikes are open to the public and will run on Thursdays starting December through the end of March. Participants will be picked up at Walking Mountains Science Center in Avon, or a nearby location and then transported to trailheads. While on the trails, they'll be able to experience first-hand the serenity and silence of the snow laden White River National Forest.
"We have seen a growing interest in our summer hiking program, so extending it into winter with snowshoe hikes just made sense. More people are

starting to realize how much fun it is to spend time in the parts of our National Forest where the only things you see are the local wildlife," said Peter Suneson, Community Outreach Coordinator, Walking Mountains Science Center.
To learn more and to register, CLICK HERE or call 970.827.9725 x 128.
Snowshoes and poles are provided and the hikes are designed for all ability levels and typically last 3-4 hours from pick up. Guests should come prepared to spend half the day in the winter wonderland. Guides will take groups on treks on snowshoe trails ranging from the East Lake Creek Trail in Edwards to the Iron Mountain Trail just outside of Redcliff. Whatever winter snowshoe experience you are looking for, the guides from Walking Mountains Science Center will be sure to please.
"We are thrilled to be able to offer local hikers and visiting guests extended snowshoe journeys on our beautiful public lands. Snowshoeing with one of our trained instructors is an opportunity to explore your curious nature while spending a peaceful day away from the hustle and bustle of our world famous ski hills," said Suneson.
The weekly snowshoe excursions will follow a rotating schedule of trails depending on where conditions are best. However, guides at Walking Mountains will do their best to accommodate requests for specific trails.
Hikes are led by instructors trained as Certified Interpretive Guides, Wilderness First Responders, and outdoor enthusiasts. Join us to make friends, get off the beaten path, and experience our wonderful winter environment in ways you will never forget. To quote the great philosopher Edward Abbey, "May your trails be crooked, winding, lonesome, dangerous, leading to the most amazing view. May your mountains rise into and above the clouds."
About Walking Mountains Science Center
Walking Mountains Science Center's mission is to awaken a sense of wonder and inspire environmental stewardship and sustainability through natural science education. Visit www.walkingmountains.org or call 970.827.9725 for more information.
###