The fall of 2015 brought some pretty impressive things to Walking Mountains Science Center's campus in Avon. We hosted our first ever event with live wolves, we constructed a new portion of the Buck Creek trail above our center, and we were fortunate to have another local Boy Scout choose Walking Mountains to be the recipient of his Eagle Scout project.
Enter Abraham Luevano from Troop 222. Between basketball practices, a full school schedule, and the obvious draws of social life that occur around one's 18th birthday, Abraham developed and coordinated the construction of two reclaimed, lodgepole pine bridges over Buck Creek. Abraham worked with friends, peers, fellow scouts, family members, and many of us at Walking Mountains to exceed over 100 hours of work constructing the new bridges.

"All visitors will enjoy the simple accessibility to our trails these bridges will provide," says Lara Carlson, Community Programs Director at Walking Mountains Science Center. "For those visitors who are a little less sure-footed or for our youngest students out to experience our beautiful area, the increased stability and hand railings on our new bridges will add an extra layer of comfort in the outdoors."
Walking Mountains staff, especially seasonal naturalists who lead daily walks throughout campus, are especially thankful for the wider access to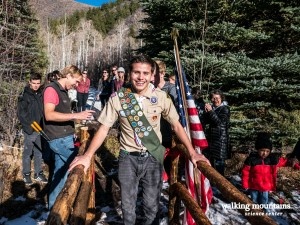 accommodate snowshoes. "There is no excuse not to come visit us and join a naturalist on one of our daily walks!" said Community Programs Coordinator Hannah Irwin.
As an Eagle Scout, and having served as coordinator on many Eagle Scout Projects throughout my years, I thank Abe for his hard work and dedication. Although in July this project seemed like a lofty ambition (and I think Abe would agree!), the success of it is due directly to Abe's ability to garner support from local businesses, coordinate his colleagues and peers, and by exemplifying the 12 points of the Scout Law. All of us at Walking Mountains Science Center thank Abe, his mom, and his troop for joining us in our mission to awaken a sense of wonder and inspire environmental stewardship and sustainability through natural science education.
Peter Suneson is the Community Outreach Coordinator at Walking Mountains Science Center.