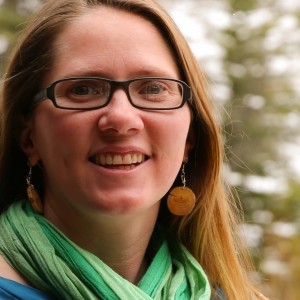 We are pleased to honor Melissa Kirr with the inaugural Vail Centre for Sustainability Torch Award. The Vail Centre Torch Awards celebrate those who exemplify our mission, Inspiration in Action, and are leaders in our community. The Sustainability Award goes to an individual who has displayed a commitment to sustainability and making the planet a priority for their community and for future generations. Melissa will be honored at the on December 11, 2015, at the Lodge at Vail.
"I love empowering people to share, communicate, and take action around sustainability."

STRONG ROOTS AND BROAD IMPACT
Melissa's work in the Vail Valley has given countless individuals and organizations the tools they need to succeed in their sustainability efforts. She has a passion for sustainability and the environment in our community. Melissa's education background in forest management launched her career, beginning with forest health monitoring for the U.S. Forest Service. Following the Forest Service, she served as the Garden Supervisor at the Betty Ford Gardens in Vail for six years where she connected with youth and adults of all ages across a variety of programming.
Melissa then took a new role at the Eagle Valley Alliance for Sustainability where she expanded her reach in the community by leading Zero Waste community events and working with business to build more sustainability into their day-to-day operations. When the Eagle Valley Alliance for Sustainability merged with the Walking Mountains Science Center, Melissa expanded her impact on the Vail Valley. She now serves as the Sustainability Programs Coordinator for Walking Mountains and leads the Actively Green sustainable business training and certification program. Currently, almost 40 businesses have been certified and over 130 individuals have attended the training.
CONNECTING TO OUR COMMUNITY
Melissa also spearheads the Community Sustainable Film Series reaching about 750 community members each year where the films prompt dialogue and action about the environment and our planet. Melissa volunteers her time with other environmental organizations, including serving as a trainer for the Colorado State University Extension native plant program. Last year, Melissa shared the 2014 Eagle County Award for Public Health and the Environment. In her free time, Melissa enjoys hiking, camping, snowboarding, and celebrating nature with her husband and two daughters.
Melissa's effectiveness as a leader includes her broad background in successful sustainability programming and an exceptional ability to work with people from all demographics – from youth to older adults, business leaders to hospitality industry, to grassroots environmental organizations. Her work promotes collaboration among all sectors of the Eagle Valley community, and integrates the four E's – ecology, economy, equity, and education. Melissa's upbeat, "can-do" attitude is part and parcel of her ability to connect and empower others to find workable responses to address their sustainability questions.
HELPING OTHERS "GO GREEN"
Whether dumpster-diving to educate kids and their parents at a Zero Waste community event, or teaching hospitality staff how to log their use of cleaning chemicals, she helps people understand what sustainability means and how to take action. If you'd like to learn more about the impactful programs that Melissa and her colleagues lead, such as Actively Green and the film series, please click here. Melissa's work truly embodies Inspiration in Action!