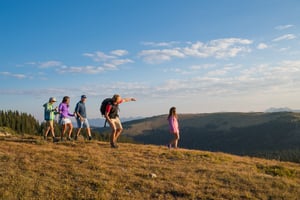 Walking Mountains Science Center and the Vail Recreation District are pleased to announce their summer hiking schedule to help locals and visitors alike rescue summer from the dreaded indoors. The backcountry hiking program, based out of the Vail Nature Center, runs from the beginning of June through the end of October. Hikes let guests explore beautiful destinations around the Vail Valley from the top of Vail Pass to the summit of Mt. Thomas with over 60 hikes scheduled. Backcountry Hikes take place on Tuesdays, Wednesdays, and Fridays and cost $80.00 or $75.00 for VRD taxpayers. Along with the peace of mind that comes with having a guide, hikers will also learn about local ecology including wildflowers, animals, and plants.
New to the hiking program this year are family hikes that run every Thursday. Families with children ages 8 and up are invited to join a naturalist on a shorter, yet equally beautiful and impressive trek on our local trails. Family hikes cost $30.00 per person or $25 for VRD taxpayers and will return to Vail by midday. You can visit www.walkingmountains.org/hike to learn more and register for all of their hikes.
Also new this year are guided treks up the Eagle Valley's only 14er, Mount of the Holy Cross. Join a professional guide to hike the 14er Holy Cross and make the same pilgrimage that settlers and those mesmerized by the beautiful West have been making for centuries. Other new trails on the schedule this year include Lionshead Rock, New York Mountain, and Grouse Lake. Whether you are looking to make new friends, get off the beaten path, or learn from the local ecology and gorgeous natural environment, Walking Mountains will ensure the experience is one you'll never forget. Hikes are guided by Certified Interpretive Guides, Wilderness First Responders, and outdoor enthusiasts that have been experiencing the valley by foot for years.
Hikers are picked up at various locations throughout the valley and transported not only to trailheads, but to areas once famous for historic homesteading or mountain passes that have been traveled upon for centuries. Hikers need sturdy boots, water, snacks, and a sense of wonder to enjoy the trails. In June, while the snow is still waist-deep and access roads remain closed, we discover our own backyards, exploring the Squaw Creek drainage or traversing up Buck Creek. As the snow slowly makes its way down into the Colorado River we branch out and visit Machine Gun Ridge, which provides 360 degree panoramas of famed 10th Mountain Division training grounds, or Notch Mountain, a strenuous yet accessible 13er.
As modern-day poets F.U.N put it, "May your past be the sound of your feet upon the ground!" See you on the trail!
Visit www.walkingmountains.org/hike or contact Peter Suneson (peters@walkingmountains.org), Community Outreach Coordinator with Walking Mountains Science Center to learn more and register for hikes.