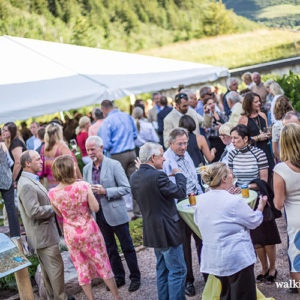 Annual Event Raises Funds for Organization's Natural Science Education Programs
Walking Mountains Science Center received overwhelming support from the community on Wednesday, July 6th, during their A Taste of Nature annual fundraiser gala held at their Science Center in Avon. The event, which had the most attendees to date, was sold out for the second year in a row. With the help of the generous and passionate Eagle Valley community, Walking Mountains raised over $500,000 in a single night, a record for the organization. More than 400 attendees were on hand to support and celebrate Walking Mountains' mission of awakening a sense of wonder and inspiring environmental stewardship and sustainability through natural science education and to recognize all the work of the events honoree's. Click here to view the events photographs.
"We are once again in awe from the support of our community. We've grown so much and are excited about the expansion of our programs that this event helps fund," said Markian Feduschak, Walking Mountains Science Center President. "Everyone who attended this year's A Taste of Nature deserves recognition in helping us educate more students and inspire environmental stewardship throughout the Eagle Valley."
A highlight of the evening was the presentation of Walking Mountains' "Reach for the Peak" award to Ann Smead by Jay Precourt in recognition of her leadership and dedication to education and the Eagle Valley's youth. From serving as Chair for the Vail Mountain School to establishing the Smead Fellows Aerospace Engineering PhD scholarship with her husband, Michael Byram, Smead has consistently proven her dedication to education. Smead was also recognized for her integral role in helping Walking Mountains purchase their new Sweetwater property from Vail Mountain School in 2015.
Another highlight was Vail Honeywagon President, Matt Donovan receiving the 2016 Founder's Stewardship Award. Donovan accepted the award for actively demonstrating the Walking Mountains mission of education and stewardship in the community. Under the leadership of Matt Donovan, Vail Honeywagon recently expanded into electronic waste recycling and composting. On a personal and professional level, Donovan has shown he truly cares about the local environment and Walking Mountains is proud to have him as a supporter.
Dr. Jason E. Glass, Superintendent & Chief Learner of Eagle County School and Walking Mountains Board Member spoke passionately to the audience about the importance of Walking Mountains' partnership with the district.
"Giving our youth an opportunity to learn outside the classroom, ask tough questions and hone their critical thinking skills is invaluable to their education. Eagle County Schools is proud of the 18 year partnership with Walking Mountains Science Center and is pleased to expand it in the coming years," said Dr. Jason E. Glass.
Even during a night of celebration and libations, Walking Mountains fully practiced their mission and values; the resident Zero Waste Team was vigilant on-site ensuring the event diverted as much waste from the landfill as possible. The event diverted 95% of its waste from the landfill through a partnership with Vail Honeywagon. Along with implementing Zero Waste at the event, the planning committee also kept recycling and compost in mind during the planning process, ensuring sourced products were made from recycled materials, compostable, and disposable items kept to a minimum.
Make sure and mark your calendars in early July for the 2017 A Taste of Nature. In the meantime, help Walking Mountains rescue summer from the indoors and visit them at any one of their three locations across the valley.