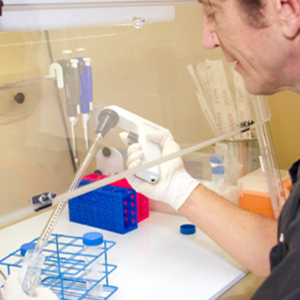 Have you ever wondered how something works or how something was made? In the monthly Science Behind series, we partner with a guest presenter to explore a large variety of interesting topics. The Science Behind series offers opportunities for adults to apply new knowledge and skills to everyday life, while having fun!
** This Science Behind event took place in August, 2016 **
The Science Behind Stem Cell Therapy
Stem cell therapy, also known as regenerative medicine, promotes the reparative response of diseased, dysfunctional or injured tissue using stem cells. These stem cells are manipulated to specialize into specific types of cells, such as heart muscle cells, blood cells or nerve cells. The specialized cells can then be implanted into a person. For example, if the person has heart disease, the cells could be injected into the heart muscle. The healthy transplanted heart cells could then contribute to repairing defective heart muscle. Self-Derived (Autologous) Adult Stem Cell Therapy is one of the newest and most innovative avenues in Regenerative Medicine. This minimally invasive procedure which gives the body the potential to heal itself naturally is only practiced by a few physicians in Colorado.
Join Walking Mountains Science Center with special guest Dr. Scott Brandt from ThriveMD for a discussion on the Science Behind Stem Cell Therapy on Wednesday, August 17 at 6:30pm. While exploring the stem cell itself, ThriveMD Medical Director, Scott Brandt, will explain how your own stem cells carry huge potential to restore an active, pain-free life. Dr. Brandt will walk us through the minimally invasive procedure that works to relieve the pain and limitations of damaged joint cartilage — without resorting to an invasive joint replacement surgery.
The procedure involves harvesting a patient's own stem cells found in fat tissue, most often from the abdominal region, to stimulate the body to repair and replace damaged tissue in any joint or soft tissue structures. The tissue is prepared in a cell-processing laboratory and injected into the ailing joint utilizing fluoroscopic guidance. Once injected, the cells can sense proteins that have been generated from cartilage damage. In response, these cells have the ability to make chondrocytes, which are the type of cells found in healthy cartilage. Then through chondrogenesis (cartilage cell division) the damaged cartilage can be replaced with healthy cartilage tissue. Dr. Brandt will also discuss the results he is seeing with Autologous Stem Cell Therapy and why he prefers using adipose (fat)-derived stem cells.
Dr. Brandt has trained extensively across the country and become one of the nation's top stem cell therapy doctors. He continues to incorporate advancements in the field as rapidly as scientific evidence supports their addition. He is actively involved in research and publication, giving instructional workshops, and presenting on a variety of subjects in Regenerative Medicine and Advanced Interventional Pain Management. Clinical research during his career has focused on the safety and efficacy of novel devices. These efforts have resulted in the development and patenting of innovative medical technology. Dr. Brandt is licensed in the state of Colorado. He is Board Certified by the American Board of Anesthesiology and has been an International Spinal Injection Society Instructor. He has been a member of the American Society of Anesthesiologists, Colorado Society of Anesthesiologists, International Spinal Injection Society, and the American Board of Pain Medicine.

IF YOU GO…
WHAT: The Science Behind Stem Cell Therapy
WHERE: Walking Mountains Science Center, Avon
DATES: Wednesday, August 17th 6:30-8:30pm
COST: FREE, $5 Donation Suggested