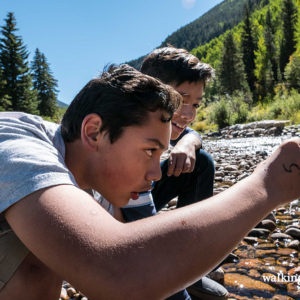 Walking Mountains Science Center's STEM (science, technology, engineering and mathematics) Leadership Academy has been recognized by Change the Equation as an accomplished STEM program. Change the Equation is a national organization created in response to President Obama's call to provide every student educational opportunities in STEM. Change the Equation created STEMworks as a means to vet STEM programs across the country using a rigorous rubric to provide a list of high-quality STEM enrichment opportunities across the nation. As the STEM Coordinator at Walking Mountains, I am pleased the program is recognized as a stand-out and am proud to receive the national accreditation. We were one of only two organizations in the state of Colorado to receive this certification. It is a great honor to be added to the list, with many other outstanding STEM organizations.
A perfect example of why our program was recognized was our recent partnership with Gypsum Creek Middle School STEM and the Town of Vail to create a new hands-on project for students. Katie Lunde, the Gypsum Creek Middle School STEM teacher knew she wanted to show her students how STEM and the environment connect, while giving students the opportunity to give back to their community. We paired up over the summer to plan a unit that highlights the local watershed. We reached out to potential partners in the area and Pete Wadden, Education Coordinator with the Town of Vail, who is heading the project to restore the Gore, loved the idea.
Katie brought 40 of her eighth grade students to Vail for the day to conduct research and help with restoration work. Students participated in water quality testing, examining macro-invertebrates and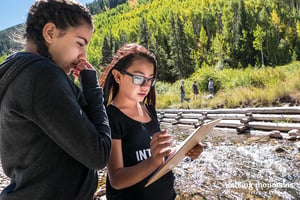 landscaping.
"When the field trip finally came together it was a total success. I had a blast working by the creek and sharing my enthusiasm for environmental stewardship with a bunch of students. It's essential to teach children the importance of protecting the environment so they become the next generation of environmental stewards," said Pete Wadden.
Students found that the number of macroinvertebrates decreased downstream from Bighorn Park to Aspen Court. They were amazed, because the creek looks clean but when they took a closer look they found that it was not as healthy as it could be. Interestingly, the student's data aligns with the official data the Town of Vail collected in 2014.
"I was so surprised at how many bugs there were in such a little spot. I learned that each bug meant something different," said a participating student.
Students also worked with the Town of Vail landscape crew. They worked diligently to pull invasive plants and plant native vegetation along the creek.
"I found that invasive species can ruin the environment," explained another student.
Katie and I saw students gain a better understanding of the watershed in the Eagle Valley through this hands-on experience. An eighth grade student wrapped up the day best.
"I care about improving Gore Creek a lot more after today. I'm excited to go back again and do different activities that relate to what we did."
The students are now exploring different watersheds in Eagle County and comparing their results to what we learned in Vail that day. They are engineering water filtration systems people could use in their yards to prevent contaminated run-off from entering the watershed. This type of impact is exactly what our STEM Program strives for; giving kids a real-world, hands-on experience that inspires them to take action, utilize STEM practices and meet local professionals working in STEM fields.
It's not too late to sign your middle school student up for the STEM Leadership Academy which is offered at all four public Middle Schools in Eagle County. Visit www.walkingmountains.org/stem to learn more and sign your child up today!
The Walking Mountains STEM Leadership Academy is generously supported by the Harvey Family Foundation, Women's Foundation of Colorado, Xcel Energy Foundation and Alpine Bank.
Amanda Hewitt was the STEM Coordinator at Walking Mountains Science Center.
Meet Chelsea Brisson, the current STEM Coordinator at chelseab@walkingmountains.org