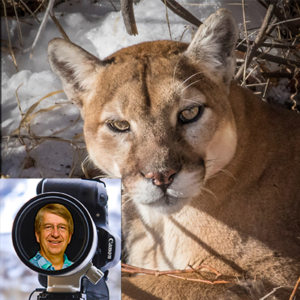 Have you ever wondered how something works or how something was made? In the monthly Science Behind series, we partner with a guest presenter to explore a large variety of interesting topics. The Science Behind series offers opportunities for adults to apply new knowledge and skills to everyday life, while having fun!
** This Science Behind event took place in November, 2016 **
The Science Behind Nature Photography
One of the many outcomes of living in the high Rockies is being able to bear witness to the abundance of wildlife that also call the mountains home. This may mean that you have upgraded to a bear resistant trash bin and actively scan the side of the highway for deer and elk. Perhaps you provide food for birds in the winter and maintain a healthy riparian buffer in your yard along Gore Creek. Either way, living in a mountain town means we share our space with charismatic fauna. For many, this affords an incredible opportunity to record photo evidence of our wild brethren.
Join Walking Mountains Science Center with local photography expert Rick Spitzer on Wednesday, November 16 from 6:30-8:30pm to explore the science of photography and what it takes to find our native wild residents to capture that perfect shot. This program will focus on the science behind the equipment needed to photograph wildlife and the knowledge of biology and ecology needed to obtain those images.



In the century and a half since its invention photography has come a long way. From the camera obscura to heliography, film to digital, the art of photography has consistently coevolved with humans and the environment to reflect images of reality. First used for portraits of notable people in the 1840's, photography is a lens through which we can watch our entire world change and grow. What did the Battle of Gettysburg look like? There are photos available to piece together an accurate portrayal of that historical event. What does a mountain lion look like? You don't have to see one in real life to know what one looks like thanks to the many photos produced by people who have.
The art of photography, and especially wildlife photography, has grown into such a coveted profession and popular hobby that quality cameras, long lenses, and a number of accessories seem essential to capture these fetching images. However, it is equally important to understand the biology and ecology of these wild animals to be able to safely and respectfully locate them and attempt to predict their behavior. Rick Spitzer will lead a discussion to discover the incredible variety of wildlife in Eagle County and learn some tips and tricks to improve your chances of seeing wildlife and successfully photographing them.
Rick is a Colorado native and taught high school biology and photography for 34 years. His all-time favorite job was the 15 summers he spent in Rocky Mountain National Park. Rick has published several photography books and the most recent is titled "Colorado Mountain Passes: The States Most Accessible High Country Roadways." Additionally many of Rick's images have appeared in the Vail Daily, Colorado Outdoors, The National Geographic web site, and even Walking Mountains Science Center publications. Rick's extensive background has allowed him to teach workshops on a wide variety of photographic topics.
Pre-registration is required for this program.

IF YOU GO...
When: 6:30 pm | Wednesday, November 16
Where: Walking Mountains Science Center
Cost: FREE, $5 suggested donation