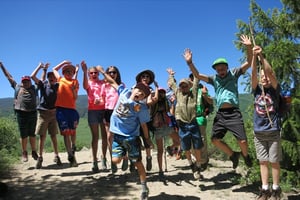 "Again, again!" cried Daniel as he was lifted from the ground and gently placed on the other side of Eby Creek. The makeshift bridge over the water had been washed away by a recent storm, and our merry band of campers had encountered our first challenge of the week at a Walking Mountains Science Center Summer Camp.
Pulling on my rubber boots, I hopped into the few inches of water trickling downstream and helped each of the young students cross. For myself, an avid hiker, crossing a stream provides a simple pleasure, but the grin on Daniel's face as he turned around, hoping to cross again, reminded me of how exciting new experiences can be for children.
Daniel was entering the second grade in his home country of China, and he found himself in my camp during a family vacation. In talking with his parents and watching him learn to interact with the natural world, it was clear these were his first meaningful moments spent in the great outdoors. He had no inherent connection to the world he was now exploring, yet he was immediately comfortable, curious, and exuberant in his new environment.
In contrast, Ali, an Eagle County native who had grown up not far from the very stream crossing we were now navigating, was seeing our surroundings through a different lens. Her culture, background, and language were very different than Daniel's, yet when she found herself placed on the other side of the creek her reply was the same, "Again, again!".
Looming across the trail, Ali pointed out a thorny wild rose bush looming across the trail. Our small group worked together to create a solution (a raincoat draped over the bush, protecting the rest of our line as they filed past), and the beauty of that collaboration will forever stay sharp in my mind. By overcoming this challenge, my campers had opened up a pathway to a new world, as we soldiered on up and down the banks of the creek for the rest of the day, looking for signs of animals, eating lunch within ear-shot of the babbling brook, and overturning logs to hunt for creepy-crawlies of all shapes and sizes.
As a longtime environmental educator who has worked across the country in various outdoor settings, the magic of this environment is staggering. In the last nine months of working and living in the Vail area, I have seen an immense change in myself along with a suite of transformations in the students I work with every day. The Summer Science Camps at Walking Mountains' allow children a chance to experience that magic. Our camps give campers a first-hand appreciation of the natural world; an opportunity to exhibit leadership, kindness, and ingenuity; or simply the chance to express unbridled joy in being carried over a meandering body of water.
I've seen these expressions in children of all backgrounds and ages, and I've noted the power our outdoor environment has to cross many boundaries, whether they are cultural, economic, or even personal in nature. Our natural environment can be of unmatched worth to a child still figuring out the world around them. Daniel and Ali came from two very different backgrounds, but they both walked away with the same exclamation as we piled back into the van: "That was so fun."
At Walking Mountains, our K-12 Summer Science Camps are designed to connect students to this place, and we extend that opportunity to locals and visitors of the Eagle Valley. To learn more, register and apply for a scholarship you can visit www.walkingmountains.org/camps. New this year, parents can drop their kids off starting at 7:30am and pick up them as late as 5:30pm. We hope your child will join us in experiencing the magic of this beautiful place and the unique window we provide into the natural world that surrounds us.
Matt Thomas is a Graduate Fellow at Walking Mountains Science Center completing his Master's Degree in Science Education through a partnership with University of Northern Colorado and Walking Mountains.