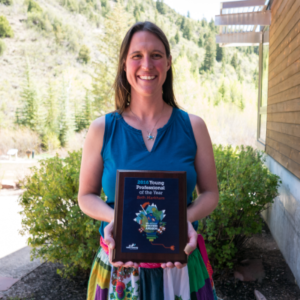 Walking Mountains Science Center is proud to have Beth Markham, a long-time employee and contributor to be named the 2016 Young Professional of the Year at the Vail Valley Partnership Success Awards on May 12th. Beth has truly grown up professionally with the organization over the past ten years, starting as an Educator to her current role as Youth Programs Director. Her department reaches over 4,900 of Eagle County's youth annually through School Programs and Summer Science Camps.
"A dedicated, empowered, and productive team is the product of great leadership. All of us at Walking Mountains have enjoyed and been inspired by watching her grow. Her relentlessly curious, positive, and genuine passion for the organization and its mission has allowed invaluable growth in Walking Mountains' reach, quality of service, and identity," said Kim Langmaid, Founder, Walking Mountains Science Center.
School program participation has grown by 80% in the last six years. She established a Memorandum of Understanding with Eagle County Schools to commit Walking Mountains to serving every K-8 student once a year. This formalized partnership ensures all students receive hands-on, outdoor experiences to complement classroom science content and provides opportunities to develop personal connections to nature.
Through Beth's efforts, Walking Mountains' Youth Programs now align with Eagle County Schools' science curriculum, ensuring students are receiving the highest quality science education both inside classrooms and outside of them. Walking Mountains school program are no ordinary field trips. Thanks to Beth they are valuable supplemental science education experiences that engage and inspire students.
"Beth's passion for hands-on natural science education motivated her to work creatively with schools to ensure every student has equal access to our unique school field science programs. She has helped Walking Mountains not only achieve internal goals but become a valuable hub of education for Eagle County. From all of us at Walking Mountains we thank Beth for everything she has done and congratulate her on this well-deserved award," said Markian Feduschak, President, Walking Mountains Science Center.
This is the third year in a row Walking Mountains has been recognized by the Vail Valley Partnership during their annual Success Awards. Walking Mountains was named "Nonprofit of the Year" for 2014 and "Best Place to Work" for 2015.
About Walking Mountains Science Center
Walking Mountains Science Center's mission is to awaken a sense of wonder and inspire environmental stewardship and sustainability through natural science education. Visit www.walkingmountains.org or call 970.827.9725 for more information.