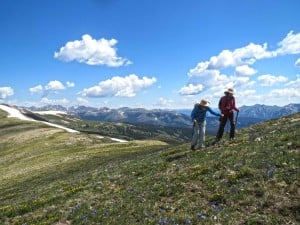 Walking Mountains Science Center and the Vail Recreation District are thrilled to announce the summer hiking schedule with added trails, more peaks, and even more fun and learning on our public lands. The Backcountry Hiking program, centered out of the Vail Nature Center, runs from the beginning of June through the end of October, catching the summer wildflower blooms along with peak fall color season! To view the full schedule and register visit www.walkingmountains.org/hike.
Hikes are guided by Certified Interpretive Guides, Wilderness First Responders, and outdoor enthusiasts that have been experiencing the valley underfoot for years. Back again this summer are the popular family hikes every Thursday through the fall. Individuals or families with children ages 8+ are invited to join a naturalist on these shorter, yet equally beautiful and impressive treks on our local trails. Family hikes return to the Vail area by early afternoon.
New to the already extensive portfolio of trails this year are hikes in the San Isabel National Forest. Hikers will have the opportunity to summit the highest peak in Colorado, Mt. Elbert, or spend a few days on the world famous Colorado Trail. Another new trail in the San Isabel National Forest will bring hikers to the turn of the century resort town of Interlaken, on the shores of Twin Lakes. This luxurious ghost town is an impressive reminder of the wealth that was found in the mountainsides surrounding Leadville.
Hikers will also be taken to some of the local hotspots in the Eagle Valley including the Missouri Lakes and Fancy Pass Loop or the infamous Machine Gun Ridge in Camp Hale where 10th Mt. Division soldiers once tested ordinance. They'll be taken back to Mystic Island Lake or to the summit of New York Mountain or Red and White Mountain.
You can also join the Backcountry Hiking program club. Hiking Club members receive unlimited access to all hikes, all summer long, and extra benefits like Colorado Search and Rescue Membership cards and discounted access to other Walking Mountains' programs. More information on club membership is available online by visiting www.walkingmountains.org/hike.
Family hikes cost $30.00 per person or $25.00 for VRD homeowners. Full-day hikes (6-8+ hours, 10-15+ miles) take place on Tuesdays, Wednesdays, and Fridays and are $80.00 per person or $75.00 for VRD homeowners.
Whether you are looking to make new friends, get off the beaten path, or learn from the local ecology and gorgeous natural environment, the trails around Eagle County and the guides with Walking Mountains and the Vail Rec District will ensure the experience is one you'll never forget.
As a famous outdoorsman once said, "May your trails be crooked, winding, dangerous, leading to the most amazing view." We'll see you on the trail!
About Walking Mountains Science Center
Walking Mountains Science Center's mission is to awaken a sense of wonder and inspire environmental stewardship and sustainability through natural science education. Visit www.walkingmountains.org or call 970.827.9725 for more information.
###