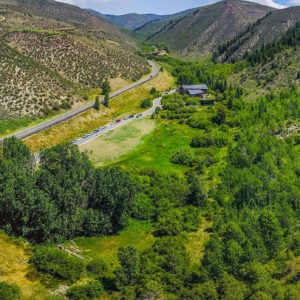 Walking Mountains Science Center has successfully sold their tax credit certificate that was issued by the State of Colorado for the conservation easement that was placed on 3.5 acres of the 5.8 they purchased in December 2016. The tax credit was sold to Alpine Bank at 90 cents on the dollar for $920,000 which was based on an independent appraisal of the property value. Along with purchasing the tax credit, Alpine Bank made a very generous $50,000 philanthropic donation to Walking Mountains recently announced Comprehensive Capital Campaign.
"Alpine Bank was pleased to be a part of this creative and unique mutually-beneficial deal. It's not often that an opportunity comes along for a corporation to make such a large contribution to a nonprofit and receive a tax credit from the state. These types of deals align perfectly with our organizational values," said Mike Brown, Regional President of the Vail Valley/Steamboat Springs Region.
Alpine Bank is a leader in community banking. They have a strong sense of social and environmental responsibility that affects all areas of their operation. Their commitment to the communities they serve is substantial, and employees give generously of their time and talents. Along with their commitment to supporting the communities they serve, they have also been a leader in green initiatives since 2006.
"We are thankful to Alpine Bank for working with us to reach our goals and for their generous $50,000 gift on top of the tax credit purchase. Alpine Bank is very supportive of all nonprofits in the community and we are appreciative of their continued support of Walking Mountains. The Eagle Valley is lucky to have such a community focused bank," said Markian Feduschak, President, Walking Mountains Science Center.
Since 2000, Colorado statute [Section 39-22-522, C.R.S.] has allowed landowners to claim a state income tax credit for placing land under a conservation easement. Typically, landowners place their land under conservation easement and then use the tax credit for their own savings. Since Walking Mountains is a tax-exempt 501(c)3 nonprofit organization, the statute allows them to sell their tax credit to an organization like Alpine Bank. This process is usually facilitated by a tax credit broker, however Alpine Bank and Walking Mountains decided to eliminate the middle-man and work directly with each other.
Walking Mountains has experienced exponential growth in their programs since opening the doors to the Tang Campus in Avon six years ago. Given the extent of this demand and the critical need for science education that inspires environmental stewardship, their Board of Directors has decided to fulfill this demand by launching a comprehensive fundraising campaign to expand their campus and programs.
This expansion includes purchasing the 6-acre lot adjacent to the Science Center in Avon and 224 acres of land along Sweetwater Creek in Dotsero. The campaign will allow Walking Mountains to better serve the entire community from Vail to Gypsum well into the next 20 years.
About Alpine Bank
Chartered in 1973, Alpine Bank is an employee-owned organization with assets exceeding $3 billion. With headquarters in Glenwood Springs and 38 banking offices across Colorado, Alpine Bank employs nearly 600 people and serves more than 130,000 customers with retail, business, wealth management*, mortgage and electronic banking services. Alpine Bank has a 5-star rating for financial strength by BauerFinancial, Inc., the nation's leading bank rating firm. The 5-star rating is BauerFinancial's highest rating for financial institutions. Learn more at www.alpinebank.com.
*Alpine Bank Wealth Management services are not FDIC insured, may lose value and are not guaranteed by the bank.
About Walking Mountains Science Center
Walking Mountains Science Center's mission is to awaken a sense of wonder and inspire environmental stewardship and sustainability through natural science education. Visit www.walkingmountains.org or call 970.827.9725 for more information.