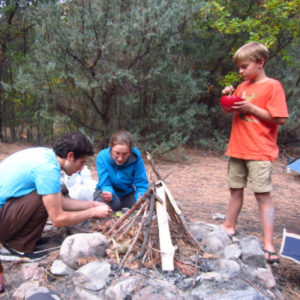 The snow is finally melting out of the higher elevations, and the backcountry is beginning to fill up with families and individuals ready to explore new and favorite haunts once again. That's right: 'tis the season for summer family camping!

Camping is a rewarding way to change up the weekly routine. Fresh mountain air, colorful blooms and greenery, and planning and preparing for something with people we care about – these are but three of the many worthwhile experiences we can look forward to with camping.
If you or your family are looking at options for camping nearby, remember that some places require advance reservations, some require a payment, and several are going to be crowded – especially during the weekends! The sooner you can get out there, the better; plus, early arrival to a site may give your group some time to set up and explore the area before those first bites of s'mores. It's also important to check the weather and to know the regulations of the location for your campsite. If you're in a state park, you are required to keep your dog on a leash at all times. If you're in a National Forest, you may be required to keep your pet on a leash depending on your proximity to other groups. In the backcountry, always camp at least two hundred feet from any water source, including a stream or a lake. No matter where you camp, remember to keep track of what you have and to not leave anything behind that wasn't already there – including food scraps.

There are seven considerations well-known to outdoor enthusiasts that should always be minded when in the outdoors: the Leave No Trace principles. Here are the seven principles in summary:
Leave No Trace Principles
1.) Have emergency supplies; hopefully you won't need them!
2.) Where there's a trail system in place, stick to it. Same rule applies for campsites.
3.) Pack out your trash, toilet paper, and other paper/cotton waste, perhaps with a plastic bag. No one wants to come across that while hiking!
4.) Leave flowers for the pollinators; don't pick and remove food sources for wildlife.
5.) Check the daily fire danger level and know what each stage of fire restriction means for where you're camping.
6.) Admire wildlife from a distance; don't try to entice the chipmunks, and leave the birds alone.
7.) Remember that how you enjoy the outdoors may be different from how someone else enjoys the same space, so keep noise pollution to the bare minimum.

There's a lot to prepare for camping in order to ensure a great time, but with good practice and assistance from each other, we can share positive experiences in our country's most amazing outdoors. Happy camping!


20 Great Adventures is a mini blog series by Walking Mountains Science Center's Youth Programs staff to celebrate the organization's 20th anniversary of providing natural science education to the Eagle Valley.