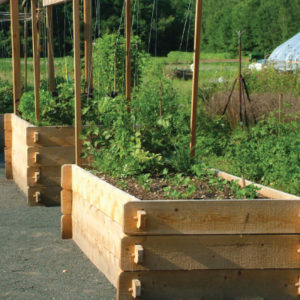 Spring has sprung after what has felt like a short and especially lazy winter. You're not quite ready to trek those still wet-with-snow, melting peaks, so what is an adventurer spirit to do during the mud season? Now is the best time to green up those thumbs! Why not try building your own garden bed this year? Here in the Rocky Mountains, the growing season is short, but sweet! A raised, wicking garden bed is easy to build and cheap too! It retains water under the bed, so your plants can go longer without being watered and you avoid surface evaporation. Many different leafy greens, root veggies, and gourds grow well in this climate! You can also start seeds inside now to be ready to plant outside after the last frost.
Don't have the space or time to build and maintain your own garden bed? Consider joining a local community garden! There are six community gardens in Eagle County and they are located in Eagle, Colorado Mountain College in Edwards, Eagle-Vail, Bare Roots in Avon, West Vail, and Minturn. When you join a community garden, you have everything you need in the form of raised beds, soil, tools, compost, and a knowledgeable gardening community that can help you reach your all growing goals! This grand adventure of building your gardening skills awaits, but don't delay! The community garden plots fill fast, so contact them to reserve your spot today!
20 Great Adventures is a mini blog series by Walking Mountains Science Center's Youth Programs staff to celebrate the organization's 20th anniversary of providing natural science education to the Eagle Valley.
By Nicole Abrams.