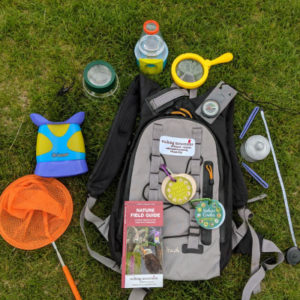 Colorado, particularly the Vail Valley, is known for its winters. The snow allows us to zoom down the slopes, and the White River National Forest mountain ranges look especially dramatic in white. But more and more each year, locals and visitors are becoming hip to the alpine summers. For families who want to explore and discover Colorado's mountains, rivers, and valleys, Walking Mountains Science Center is making it easy and free with their new Adventure Packs. Available for week-long check-outs from their local Eagle Valley Library District branch library, the packs include equipment and activities designed for families to investigate the natural world of Colorado and make the most of their summer!
To check out an Adventure Pack, visit the Avon, Eagle, or Gypsum locations. Each pack includes binoculars, bug catching and observing tools, a compass, measuring tape, children's nature activities, wildlife guides, Walking Mountains Science Center summer brochure, and stickers to commemorate your adventures! Packs are free to check out on a day-of first-come first-served basis. Adventure Packs are also available at the Nature Discovery Center on Walking Mountains' Avon Campus, the Vail Nature Center and Nature Discovery Center in Vail.
While the packs do not include trail safety essentials such as water, sunscreen, appropriate attire, maps, or first aid kits, a family properly prepared to explore the outdoors will find that the contents of the Adventure Packs will help inspire curiosity, provide the tools to study and discover Colorado ecology, and guarantee a fun time! Use the binoculars to spot some birds high in the treetops! Try your hand at some entomology (the study of bugs) with some butterfly nets and magnifying glasses. Explore like a pro and develop your sense of direction with a compass and learn to recognize all types of wildlife wherever you find yourself!
Walking Mountains Science Center's mission is to awaken a sense of wonder and inspire environmental stewardship and sustainability through natural science education. If you have any questions about the Adventure Pack program please call 970.827.9725 x137. To find out more about your local EVLD branch check out www.evld.org.