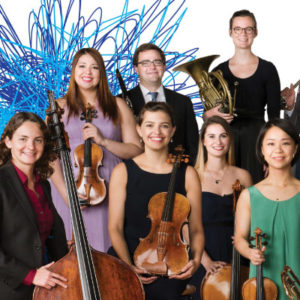 Have you ever wondered how something works or how something was made? In the monthly Science Behind series, we partner with a guest presenter to explore a large variety of interesting topics. The Science Behind series offers opportunities for adults to apply new knowledge and skills to everyday life, while having fun!
** This Science Behind event took place in July, 2018 **
The Science Behind Sound with Bravo! Vail
Summer in the valley includes a plethora of activities from hiking to fishing, star gazing to music festivals. As you spread out your blanket on the grass and settle in for an evening of live music enjoyment, do you ever wonder just how it all comes together? Join Walking Mountains Science Center for the Science Behind Sound: Exploring Chamber Music presented with Bravo! Vail Music Festival, featuring members of the renowned group Ensemble Connect for a night of lively music, science, and community engagement.
On Thursday, July 19th at 6:30 pm, join five musicians from Ensemble Connect, based at Carnegie Hall in NYC, as they take you behind the scenes to uncover the elements of small ensemble playing. Through guided listening, audience participation, and personal insights, these musicians will unpack the elements that go into playing music together using Dvořák's String Quintet No. 2 as a guide. This performance will feature two violins, a viola, cello, flute, and double bass. Each member will be on board to excite your curiosity and enhance your understanding of what it takes to play chamber music.
Ensemble Connect is a two-year fellowship program for the finest young professional classical musicians in the United States that prepares them for careers combining musical excellence with teaching, community engagement, advocacy, entrepreneurship, and leadership. It offers top-quality performance opportunities, intensive professional development, and the opportunity to partner throughout the fellowship with a New York City public school.
Ensemble Connect has received accolades for the quality of its performances and its fresh and open-minded approach, performing a wide range of music—from centuries past to works written days before a concert—in a variety of performance venues. The group performs its own series at Carnegie Hall and has regularly appeared at The Juilliard School's Paul Hall and other venues throughout New York City, including (Le) Poisson Rouge in Greenwich Village, Subculture in NoHo, and Galapagos Art Space, National Sawdust, and Roulette in Brooklyn. Ensemble Connect also performs as part of Carnegie Hall Citywide.
IF YOU GO…
What: Science Behind Sound: Exploring Chamber Music presented with Bravo! Vail Music Festival
When: July 19th | 6:30 pm
Where: Walking Mountains Science Center in Avon
How much: FREE, $5 donation appreciated