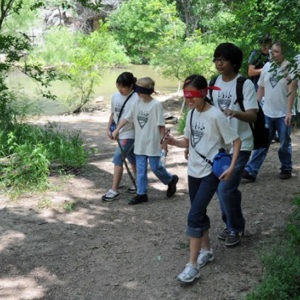 When many people go hiking, they might be walking very quickly, with a large group of friends they are chatting with or even carrying a speaker playing music. In those circumstances, it is very difficult to notice and appreciate where you are. A solo hike can be very meaningful and allow space for introspection and a deeper connection to nature. On a hike with a close friend, you can slow down and be intentional about connecting with your surroundings. To get the most out of your hike, you can use more than just your sense of sight.
Use your sense of touch. If you have a trusted friend with you, you can wear a blindfold and your friend can guide you short distances to feel the trees, shrubs, rocks or anything they choose. The blindfold is most helpful if you are bringing young kids, but older children and adults can remind themselves to reach out and touch the flowers or the dirt. Our hands did not evolve in a context of typing a keyboard or scrolling on a smart phone. Our hands are capable of so much more, and there is a direct relationship between happiness and using our body in ways for which it was adapted.
Use your sense of hearing. While you are walking, you can find more birds by listening for them than by looking for them. You can find a comfortable spot to sit on the ground or on a fallen tree, and close your eyes for a few minutes. With practice you will be able to sit with your eyes closed for 15 minutes and give your attention to the sounds around you. Listen to the wind rustling the leaves, and to the ground squirrels running on the forest floor. You will be surprised how this mindfulness practice can calm a racing mind, and you will realize there are so many sounds you hadn't noticed before.
Use your senses of smell and taste. The best time to smell the outdoors is during or shortly after a rain. This brings out the scents of plants and soil, filling the air with a unique smell that can take you back to memories when you were a kid. Also, many plants are aromatic and can be identified by their scent. If you find a Douglas-fir tree you can crush a couple needles in your fingers and enjoy the lemony/citrus scent. If you are lucky to find a large mature Ponderosa pine tree, put your nose up to the bark and enjoy the vanilla scent. If you know how to identify wild berries, you will find many along the trails. Tasting just a couple of each variety will be highly enjoyable. We are equipped with a biological reward system that will encourage you to find more high-sugar wild morsels.
By using all of your senses during a hike, you will open your mind to a deeper connection with nature that will open your heart. Hopefully you will feel the peace and union of being a part of nature, rather than just moving through it.


20 Great Adventures is a mini blog series by Walking Mountains Science Center's Youth Programs staff to celebrate the organization's 20th anniversary of providing natural science education to the Eagle Valley.


This summer, Jill was a camp counselor/educator. She is a scientist and teacher who enjoys being in nature, cooking healthy food, and meeting dogs on the hiking trails.
Sources: