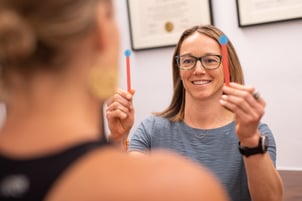 A concussion is a mild traumatic brain injury associated with functional and microstructural brain changes resulting from direct or indirect forces transmitted to the brain. There is a rapid onset of short-lived neurological impairment that resolves spontaneously in most cases, with 90% of concussions resolving within 3 weeks.
At least 10% of individuals who sustain a concussion have prolonged symptoms that can last months to years post-incident. These symptoms often include headache, dizziness, brain fog, cognitive difficulty, visual problems, light/auditory sensitivity, balance impairments, decreased strength, and neck pain. Many of these symptoms arise from disruption of brain function affecting the vestibular, oculomotor, and proprioceptive systems. Vestibular refers to our sense of position in space and is regulated through sensors in the inner ear that communicate with the brain. Oculomotor refers to the eyes and control of eye movements and function. Proprioceptive is essentially our bodies' ability to provide information to the brain about where and how we are positioned.
One of the most challenging symptoms following a concussion is dizziness. Dizziness is usually not a result of disruption of a single system but rather can be understood as a "sensory mismatch" between systems. Think of it as miscommunication within the brain, resulting in confusion that feels like dizziness.
Sometimes concussion-related dizziness is a result of an inner ear mechanical dysfunction called "Benign Paroxysmal Positional Vertigo" or BPPV. In the absence of concussion, BPPV is the most common cause of dizziness and vertigo. BPPV is the dislodging of crystals in the inner ear that make their way into the area of the inner ear that senses rotation. As a result, this individual will experience a sensation of motion even when they are not moving. There is a simple and highly effective treatment called the Epley Maneuver, in which the head is placed in a series of positions for specific amounts of time to move the crystals back to the appropriate location.
Fortunately, due to the neuroplasticity in our brains and bioplasticity in our bodies, we can work on these systems to improve their function and reduce symptoms that arise from their dysfunction. Physical therapy is used to help an individual with dizziness, either post-concussion or not, adapt, adjust, restore or compensate for the impaired brain function. These are called habituation, adaptation, remediation, and compensation, respectively. Treatments for concussion-related dizziness, BPPV-related dizziness, and vertigo require physical processes involving manual treatments and exercises. There are a number of tests that can be done to determine if your dizziness is related one of these systems, and if there is potential to improve on it through focused therapy.
If you would like to learn more about this topic and the ways that concussions and dizziness can be assessed and treated, join Walking Mountains Sciences Center and Carrie Eckenhoff, owner of Equilibrium Physical Therapy, for the Science Behind Concussion and Dizziness Treatment ton Wednesday December 4, 2019 from 6:30-8:30 at Walking Mountains in Avon.
If you go…
What: The Science Behind Concussions and Dizziness Treatments
When: Wednesday, December 4, 2019 | 6:30pm
Where: Walking Mountains Science Center, Avon
How much: FREE ($5.00 donation suggested). Registration required at www.walkingmountains.org/sb