Guided Vail Hikes for All Ability Levels
Walking Mountains Science Center is excited to announce their 2019 summer & fall guided hiking programs. Now in their sixth year on the trails, Walking Mountains invites you to awaken your sense of wonder and explore the Eagle Valley's thousands of acres of Wilderness & National Forest. Whether you're eager to experience the backcountry for the first time, bag your first 14er, or curious to learn what that flower on your favorite backyard trail is, Walking Mountains' guided trips will expand your horizons and leave you with new experiences.
Join Our Club!

A local's favorite! A season membership pays for itself after just seven full day hikes, and allows you to join a vibrant community of friends, naturalists, and avid hikers on the trails every week through the end of October.

Pick Your Experience!

Each week this summer, full day hikes schedule showcases three unique backcountry experiences.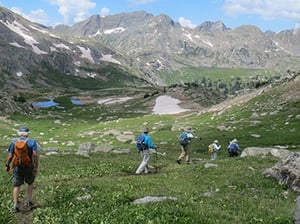 Mountain Lakes

On Mondays Walking Mountains guides a hike to a different alpine lake nestled in the Gore & Sawatch Mountains. Alpine lakes are among the most popular hiking destinations and these hikes feature moderate trails and intimate views of some of Colorado's most impressive summits. If you've already visited the valley's most popular high-altitude lakes, venture off the beaten path on some more remote trips to Seven Sister's Lakes and New York Lake!

Guide's Choice

If hiking for you is less about the destination and all about the journey, sign up for a Tuesday Guide's choice hikes. Enjoy a relaxed pace on moderate trails and experience the quiet beauty of local mountain ecosystems and wildlife. New this summer, the Featured Hikes series takes place the fourth Tuesday of each month on trails that highlight unique features of Colorado's cultural and natural history. For flora enthusiasts, don't miss Stagg Gulch on June 25th for our first featured hike of the season, and dive into the wonderful world of Colorado's wildflowers!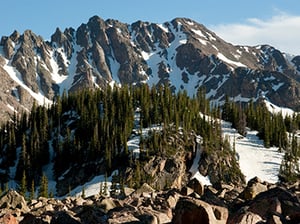 Summits & Passes

Thursdays are for those looking to hike high into the alpine with the Summits & Passes Hikes. This summer Walking Mountains Certified Interpretive Guides will lead you to summit three of Colorado's 14ers: Mt. of the Holy Cross, Mt. Elbert, and Mt. Huron, alongside many of other prominent peaks. Among the more adventurous offerings are New York Mountain, Bald Mountain, and Whitney Peak, but all Thursday hikes will offer a great introduction to relatively easy (class 2) off-trail hiking & alpine scrambling.

Half Day & Family Programs

In addition to the full day hiking experiences, Walking Mountains will offer half day programs for families and those who prefer a more leisurely experience. New this year is the launch of Piney Family Adventure Hikes every Wednesdays in July and August. Transportation is provided to Piney River Ranch, one of the Vail Valley's most beautiful and popular destinations. On Sundays half day hikes to various Vail trails depart from the Walking Mountains' booth at the Vail Farmer's Market each Sunday afternoon, June 16 through August.

Pick Your Challenge!

Each week this summer features an easy, moderate, and difficult trip so that whatever your ability, and whenever your vacation lands, you can join Walking Mountains Science Center on the trail this summer! View the schedule and register at www.walkingmountains.org/hike to start planning your next adventure!