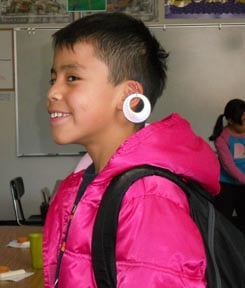 Who would have thought that "Girls in Science" could become so popular that a BOY would pretend to be a girl just to sneak in to class? Believe it! Jesus has been pining to become part of Miss Lara's class for years now. His 5th grade sister has been participating in the program for three years while he could only sit by and watch with jealous enthusiasm. Before the program wrap this year, Lara offered a "Siblings in Science" day just so Jesus could participate in the fun. The kids continued a "grossology" lesson on snot – testing different tissue brands for strength with marbles and a water sprayer. Jesus got his fill of Girls in Science on this day, but we are certain he'll be back next year asking for more!

Walking Mountains Girls in ScienceGirls in Science is an after school program that nurtures and inspires an interest in science for girls in the 3rd through 5th grade. The program was developed to address a national trend of girls falling academically behind in science by their middle and high school years. Piloted in 2007, Girls in Science is now offered through Walking Mountains in five Eagle County Schools: Avon Elementary, June Creek Elementary, Edwards Elementary, Brush Creek Elementary and Gypsum Elementary.

This year Walking Mountains winter naturalists planned some new curriculum for the girls as part of a professional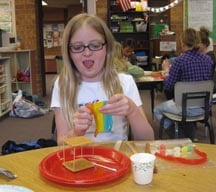 development assignment. These interns are college graduates who spend five months with Walking Mountains each year in an effort to gain experience working with people of all ages outdoors and grow as environmental educators. Rose Delles expanded on the chemistry unit to cover molecular reactions, PH, density and explosions. Walking Mountains Girls in ScienceRachel Solomon created a brand new unit called "grossology" (mentioned above). The girls studied everything "gross" related to bodily functions: boogers, burps, barf, digestive systems and animal grossology. The girls were fascinated and "grossed" out all at once! Caitlin Rex created another new unit on wilderness survival covering the idea of leaving no trace, shelter building, knot tying and orienteering.

This year the program reached out to more girls than ever and the participants were brimming with enthusiasm. Students were also able to draw conclusions and make connections to Walking Mountains programs that they had experienced in school. We are excited about the growth of this program and expect great things for next year.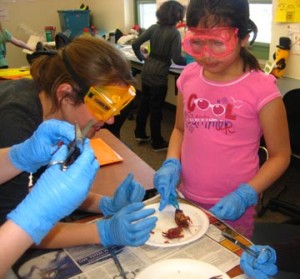 If you'd like to learn more about the Girls in Science program please contact Lara Carlson, Girls in Science Coordinator: (970) 827.9725 ext 15.