Trail Name: Bighorn Creek
As we turn the calendar from June to July, our mountains couldn't look any more different than last year. Along with the noticeable lack of a smoky haze obscuring our peaks, creeks are high, and snow lingers above 10,000 ft. All that water has brought us one of the lushest summers in recent memory! If you're looking to get out and experience this contrast of lush green & snow capped peaks, there's nowhere better than the Bighorn Creek trail!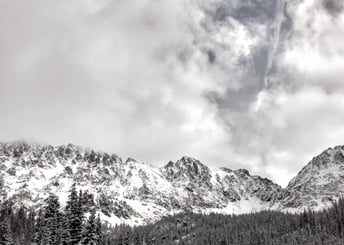 Getting There:
Bighorn Creek is right in Vail's backyard, and is one of the five spectacular east vail trails. Take exit 180 off I-70 and follow Bighorn Road, on the south side of the highway, east to Columbine Drive. Turn left on Columbine Drive, and find the trailhead on your left, after crossing under the interstate.
What to Expect:
Of all the East Vail hiking destinations, the cabin at Bighorn Creek is probably the most moderate. However, this is still a challenging hike in its own right. In classic East Vail fashion, the first half mile is the steepest as you climb out of the valley on hot, dusty switchbacks. After the initial climb the grade mellows, and you hike through a mix of Aspen, Lodgepole Pine, and Douglas Fir forests. The trail crosses a number of large avalanche paths, filled with lush undergrowth and a sampling of Colorado's wild flowers. Particularly notable is a bloom of glacier lily that tends to be in its prime around the 4th of July! As you continue, each meadow and rocky outcrop features increasingly impressive views of the snow covered Gore Range. Your destination is an old prospecting cabin at 10,700 feet, and roughly 3 ½ miles from the trailhead. You may encounter snow-covered trails above 10,500 feet, so if you're hoping to reach the cabin bring a map!
Hike with Us!
Experience Bighorn Creek with a naturalist guide on a hike with Walking Mountains Science Center! Our certified interpretive guides are eager to share their knowledge and love of our valley, and enhance your experience on the trail. Walking Mountains is headed to Bighorn Creek on July 9th, so book your spot today on our website, www.walkingmountains.org/hikes.
Stewardship Message:
Feet of snow in the mountains and hot days in the valleys mean that our snow-melt season is still in full swing! Along with snowmelt often comes muddy trails. Although it is tempting to try and find your route around muddy & wet sections of trail, this has a number of negative effects on our trail systems. Creating your own trail not only kills the flora you walk over, but leads to erosion which decreases the quality of our trails & negatively impacts water quality in our mountain streams! Rather than walk around these sections of trails, bring your good boots (that is, after all, what they are for), stay on the trail, and enjoy your "backcountry mud run" through our mountains!
Quick Facts:
Difficulty Rating: Moderate
Round-Trip Length: 7 miles
Elevation Gain: 2,100 ft.
Peak Elevation: 10,700 ft.