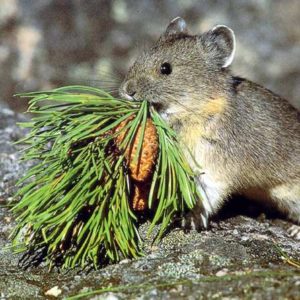 Join us this Sunday, September 13 for our final Science Behind on the Trail hike of the summer! This free series of community hikes has explored the potential for wildlife underpasses on Vail Pass, creek restoration projects in East Vail, and now we're heading up into the alpine with the Front Range Pika Project!
Enjoy a moderate guided day hike up to Half Moon Pass. Half Moon Pass sits at 11,600 feet right at tree line on the shoulder of Notch Mountain. Once at the passes summit you will be treated to stunning views of the Gore Mountain range to the north, Mt. Holy Cross to the south, and have the opportunity to see marmots, ptarmigan, and pika in their natural alpine habitat! We will be joined by Megan Mueller from the Front Range Pika Project to learn all about pika in the alpine and how climate change is threatening to change this fragile ecosystem. Additionally, you will have the opportunity to look for pika among the talus, record observations using the citizen science app iNaturalist, and learn about how Colorado's communities and citizen science programs contribute to protecting our mountains, and its fragile wildlife communities! For more information on the program please visit www.walkingmountains.org/hike and scroll to our 'Science Behind on the Trail' series page.
The program is free to attend, and $10 if you would like van transportation to the trailhead. For more information and to register visit www.walkingmountains.org/hike and scroll to the 'Science Behind on the Trail' Series program page. If you have any questions reach out to hike@walkingmountains.org.
Half Moon Pass Hike:
The hike to Half Moon Pass is the first leg of a journey to the Mount of the Holy Cross, Eagle County's only 14er! This round trip hike is 4 miles and 1,200 vertical feet, and takes you to the top of Half Moon Pass (don't worry, we won't be continuing to the summit today—and this is a moderate to challenging hike with views as spectacular as many more challenging destinations!).
Transportation & Logistics:
The program begins at 9:30am at the Half Moon Trailhead, about a 1 hour drive from Vail, and will conclude around 2:30 pm. Van transportation is available for 6 participants, and is available upon registration. The van will pick up in Avon, Vail, & Minturn and will depart the final pickup location at 8:30am (details will be confirmed by email prior to the program date).
Program Overview: The Science Behind Climate Change & Pika: The Cute Curators of the Alpine
What: Day Hike to Half Moon Pass
Where: Half Moon Trailhead (about 1 hour from Vail up the Tigiwon Road, near Minturn)
When: 9:30am – 2:30pm
Why: Learn all about pika, and help contribute to citizen science with regional pika expert Megan Mueller, from the Front Range Pika Project!