Going stir crazy at home? Starting to feel like a mad scientist? Join us weekly on Fridays for our Walking Mountains' staff favorite STEM activities. Pick out activities that you can do at home with your elementary and middle school aged students either all at once or pace yourself throughout the week.

Every Friday Megan (Girls in Science Coordinator) and Paul (STEM Curiosity Lab Coordinator) will share a variety of Walking Mountains STEM approved activities covering a variety of topics from growing your own geodes to building a homopolar motor.

As you and your student work your way through various engineering challenges, science experiments, and STEM-focused activities, please share your photos and videos with Walking Mountains Facebook to be featured in our Tuesday
STEM @ Home blog posts and learn what is in store the next Friday!
Show your support for Walking Mountains' STEM @ Home activities: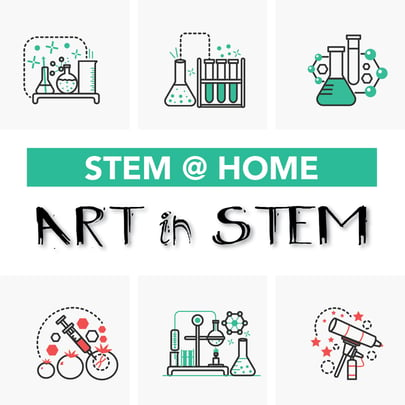 ELEMENTARY RESOURCES
Painting with Salt - Create a cool design with glue and salt, then watch the crystals absorb colors right before your eyes!
Pendulum painting - Using a few supplies, gravity, and the physics of a pendulum in motion you can make a unique piece of art.
Marker chromatography - Chromatography is a laboratory technique for the separation of a mixture.The various parts of the mixture travel at different speeds, causing them to separate. See what colors different marker inks separate into!
Build a Magnetic Maze - Build a maze to guide a magnetic object out of with simple materials found around the house.
Walking Rainbow - Most everyone learns in preschool the primary colors are red, blue, and yellow. And when we mix these colors together we can create all kinds of other colors! What if there was a way we could make new colors, without having to touch the dye?
MIDDLE SCHOOL RESOURCES
"Where Science Meets Art" - Check out this great series of podcasts from NPR and learn about the connection between arts and sciences!
Music and Math - Do you like music? Whether you play an instrument already or are looking to pick one up, understanding the math behind music is a huge step to learning scales, rhythyms, notes, and more!
Tesselation Art - Follow this guide to make your own "tesselation art!" Tesselations are patterns of the same shape that completely fill in a space with no gaps, like a tile floor or jigsaw puzzle. See what shapes you can create that fit together!
Musical Fractions - Fill up glasses with different amounts of water and experiment with musical fractions! Write a song and play it back with your newest instrument!
Scientific Sketching - Do you like to draw? Or maybe you just like to make a quick scribble of what you see? Learning the techniques of scientific sketching can help you to identify the plants and animals you see in nature! Grab a small sketchbook and head outside to start drawing!
---
We are only sharing these links/activities with the intent of sharing these resources with our community for purely educational purposes during the prolonged school suspension as a result of COVID-19. We do not own any of the intellectual property that we share.