Going stir crazy at home? Starting to feel like a mad scientist? Join us weekly on Fridays for our Walking Mountains' staff favorite STEM activities. Pick out activities that you can do at home with your elementary and middle school aged students either all at once or pace yourself throughout the week.

Every Friday Megan (Girls in Science Coordinator) and Paul (STEM Curiosity Lab Coordinator) will share a variety of Walking Mountains STEM approved activities covering a variety of topics from growing your own geodes to building a homopolar motor.

As you and your student work your way through various engineering challenges, science experiments, and STEM-focused activities, please share your photos and videos with Walking Mountains Facebook to be featured in our Tuesday
STEM @ Home blog posts and learn what is in store the next Friday!
Show your support for Walking Mountains' STEM @ Home activities: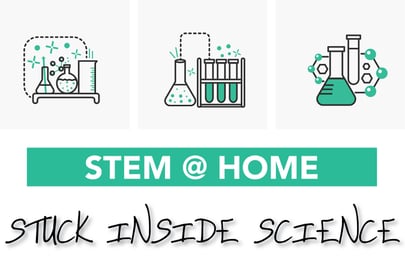 Elementary Resources
Science Podcasts for Kids - Reading books about science sometimes can be kind of hard with all of the big words and ideas, but listening to other people talk about science as if it were a story is super fun! Some of Megan's favorites: The Show about Science, Point of Discovery, Wow in the World, and People Behind the Science.
Gummy Bear Osmosis - Investigate the movement of different solutions into and out of gummy bears! Learn about how molecules move by watching your gummy bears shrink and grow before your own eyes.
Oxidation Experiment - Why do objects rust? What objects around our homes will rust if placed in water for 2 weeks? Check out this experiment to watch and learn about this fascinating scientific process!
Build Your Own Homopolar Motor! - Harness the power of electromagnetism to construct your own homopolar motor. Build a tiny dancer, heart, or any shape of your choice and watch it spin!
CO2 Fire Extinguisher - Blowing out candles can be fun whether or not it's your birthday. But what if you could use science to extinguish a candle's flame?
Megan and Paul tried the CO2 Fire Extinguisher experiment... check out how it went!
MIDDLE SCHOOL RESOURCES
DNA Extraction - Extract real DNA from fruits and vegetables around your house! All you need are a few simple ingredients--including soap and rubbing alcohol--to be able to see large globs of DNA
Lava Lamp - Do you have cooking oil, water, food coloring, and Alka-Seltzer tablets? Then you can make your very own miniature lava lamp! Explore how surface tension and polarity can create a lava lamp with no heat required!
Levitating Matches - See how the power of fire can make a matchstick appear to float! For this experiment all you need are a couple wooden matches and adult supervision.
Crush a Soda Can with Air Pressure - Want to see a soda can implode? Using principles of heat and pressure you can make an empty soda can implode (rapidly crush itself) with just hot and cold water.
Cabbage pH indicator - Ever wondered if something is an acid or base? You can find out with nothing more than red cabbage and a blender!
---
We are only sharing these links/activities with the intent of sharing these resources with our community for purely educational purposes during the prolonged school suspension as a result of COVID-19. We do not own any of the intellectual property that we share.