As 2022 comes to an end, we want to reflect on the progress the Climate Action Collaborative (CAC) and our partners have made in 2022. Here are 22 local climate wins of 2022, in no particular order:
1. Climate Action Week 2022
Walking Mountains and the CAC hosted the first annual Climate Action Week in April! 15 events designed to inspire local climate action were held with 14 partner organizations. Stay tuned for Climate Action Week 2023.
2. E-Bike Access Expanded
2022 was the year of e-bikes in Eagle County! Shift Bike was launched to connect Vail, Eagle-Vail, and Avon. In addition, e-bike rebates are now available to residents of Avon, Edwards Metro District, and Holy Cross Energy members.
3. Updating and Adopting Regionally Consistent Building Codes
In 2022, Eagle County municipalities began working with a team of consultants to adopt the 2021 International Energy Conservation Code (IECC) and supporting amendments. This coordinated effort will streamline code compliance and save energy & money. If you'd like to help shape the future of sustainable building in Eagle County, attend the virtual public meeting on January 11th from 12:30-1:20pm. Register here.
4. The Adam Palmer Solar Array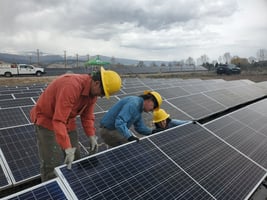 In April, the Palmer Sustainability Fund and Holy Cross Energy along with partners and over 80 volunteers
constructed
a 200-kilowatt solar array in Gypsum. The renewable energy produced will provide electricity to income-qualified community members.
5. Solarize Eagle County Exceeds Goal
Solarize Eagle County launched in April as a limited-time community program giving residents and businesses the information and rebates necessary to install rooftop solar. In total, 65 homes and businesses installed over 550 kW of solar.
6. Releasing the 2021 CAC Impact Report
The Climate Action Collaborative released its 2021 Impact Report this fall. Read it here.
7. CAC Board set Bold Goals for 2023
This November, the CAC Board set bold goals that will keep Eagle County on track to reduce greenhouse gas emissions 50% by 2030 and 80% by 2050. The CAC and its partners are excited to begin working to meet these important goals.
8. New Faces
2022 was a transitional year for the CAC. We are excited to welcome Gina McCrackin as the new Manager, Will Barror as the Associate, and Elizabeth Baer as the Sustainability Fellow!
9. Approving the Regional Transportation Authority
The Eagle Valley Regional Transportation Authority was approved by voters in November. We are eager to see the climate benefits of improved public transportation.
10. Creating the Eagle County EV Infrastructure Plan
Representatives from Eagle County municipalities are working with the CAC to write the Eagle County EV Infrastructure Plan. This Plan will detail the path to increasing electric vehicle adoption locally. Stay tuned for the release of the Plan in 2023.
11. Benchmarking Colorado
The CAC helped the Colorado Energy Office (CEO) contact owners of local buildings subject to HB21-1286: Energy Performance For Buildings. We are excited to continue partnering with the CEO on initiatives that reduce building energy consumption.
12. New Online Climate Action Hub
The Climate Action Collaborative released a new website in December. Check out climateactioncollaborative.org to learn more about our work, access resources, and get involved!
13. Diverting over 25 Tons of Waste from Landfill
The Walking Mountains Zero Waste Team kept 51,540 pounds of waste out of the landfill at events in 2022! This equated to 81.4% of waste being either recycled or composted.
14. Largest Solar Array and Battery Storage in Colorado
In September, Holy Cross Energy cut the ribbon on the largest solar array and battery storage facility in Colorado, located at Colorado Mountain College's Spring Valley campus in Glenwood Springs. We're excited to bring similar projects to Eagle County in 2023!
15. Electric Bus Fleets Grow
The Town of Avon welcomed two electric buses in 2022, adding to the e-buses the Town of Vail and Eagle County already operate.
16. Natural Climate Solutions on Private Land
The CAC is excited to welcome Allie Schima, a CU Denver Master of Urban and Regional Planning student to the team for the next few months! Allie will be researching opportunities for natural climate solutions on private land in Eagle County as her capstone project.
17. Reducing Outdoor Water Use
At the end of 2022, the CAC formed a group of local stakeholders to draft materials and recommended policies that will reduce outdoor water consumption. We're excited to share our work in 2023!
18. Rebates, Rebates, Rebates!
In 2022, Walking Mountains and EnergySmart Colorado provided over 130 residential rebates, 26 commercial rebates, and conducted over 165 energy assessments. We're eager to continue helping residents and businesses reduce their energy consumption in 2023!
19. LED Swaps
The CAC swapped over 100 light bulbs for energy efficient LEDs in 2022. In total, our LED swap program has saved over 53 tons of CO2.
20. Updated Eagle County Energy Inventory
Eagle County released its annual energy inventory in May. The Inventory details energy consumed and emissions released in the County in 2019 and 2020.
21. Town of Eagle Adopts the Climate Action Plan Update
In late July, the Town of Eagle formally signed onto the Climate Action Plan Update, reaffirming their commitment to climate action and complimenting their aggressive net-zero goals.
22. EVs and E-Bike Demos
The CAC hosted an EV Ride 'n Drive and E-Bike Demo in September. We had a great turnout from local EV owners, enthusiasts, bike shops, and interested residents. Stay tuned for more events in 2023!

All of us at the Climate Action Collaborative and Walking Mountains Science Center wish you a peaceful holiday season and a happy new year! Cheers to climate action in 2022!


---
Will Barror is the Climate Action Associate at Walking Mountains Science Center. The Climate Action Collaborative is working to reduce greenhouse gas emissions in Eagle County 50% by 2030 and 80% by 2050.