Whether you like it or not, spring is right around the corner. Warmer weather, longer days, and mashed potato snow means we're only weeks away from float trips and mountain biking.
Spring is often thought of as a time of renewal, rejuvenation, and growth. There's also no better time to start getting out of the car and creating a green commuting plan that will save you money and reduce your greenhouse gas emissions. No matter if you walk, ride a horse, bike, scooter, bus, kayak, carpool, unicycle, or work from home, it's easy to become a green commuting hero this spring!
Doctors agree, walking is a great way to boost your health, prevent disease, and improve your mood. The Mayo Clinic recommends 30 minutes per day, perfect for the walk to and from work! If work is too far to walk to, consider taking a stroll next time you need groceries, head to the coffee shop, or meet up with friends.
If you like to move faster than you would on foot, consider biking to work! Whether you ride a traditional bicycle, an e-bike, or something more unique (looking at you, unicyclists), the Eagle Valley Trail is a great way to get around Eagle County. If you don't have your own bike, Shift Bike, an e-bike share program, will be back this summer with even more bikes and stations in Vail, Avon, EagleVail, and now Edwards! This year, you can also get a rebate on the purchase of a new or used e-bike from Holy Cross Energy, Edwards Metro District, and the Town of Avon. Check out their websites for complete information.
Walking, biking, or unicycling are all great ways to get from A to B, and as long as you're replacing vehicle miles with human-powered miles, you're eligible to participate in Sole Power, the Eagle Valley's green commuting challenge! Running from Memorial Day (May 29th) to Indigenous People's Day (October 9th), Sole Power lets you create or join a team, track your green commuting miles, and challenge others. There are also monthly happy hours and prize drawings all summer long!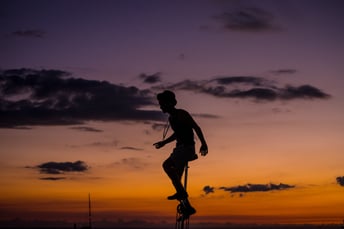 If you live further away from your job, consider taking the bus to and from work. Eagle County makes planning your commute easy with TransitHub. You can use this free tool to plan your route on ECO Transit, as well as Vail and Avon's free bus systems. If you need to get down to the Front Range, Bustang and Pegasus offer affordable bus service along I-70 and to other parts of Colorado.
Carpooling is also an option, especially if you live near a coworker. Make a new friend, create a catchy playlist, and offer to switch off who drives. With so many people commuting up-valley everyday, driving with one or more other people can reduce traffic, save money, and lower your greenhouse gas emissions!
Finally, if you're able, consider working from home a couple days a week! Remote work has benefits beyond slowing the spread of contagious diseases. You'll spend more time with friends and family doing the activities you enjoy and less time stuck in traffic. If you're looking for resources on how to make "remote work," how to bring up working from home with your supervisor, or want to develop a remote work policy for your business, check out the Climate Action Collaborative's Trends With Benefits.
This spring, along with cleaning, planting a garden, and putting your skis into storage, make a green commuting plan! Whether you walk, bike, bus, carpool, unicycle, or work from home, you'll be doing your part to support Eagle County's goal of reducing greenhouse gas emissions 50% by 2030 and 80% by 2050. Learn more about the work the Climate Action Collaborative is doing to reduce emissions from transportation here. Thank you for being a green commuting hero!
---
Will Barror is the Climate Action Coordinator at Walking Mountains Science Center. The Climate Action Collaborative is working to reduce greenhouse gas emissions in Eagle County 50% by 2030 and 80% by 2050.