With tricks and treats right around the corner, you may want to consider greening your Halloween this year! Did you know that a single trick-or-treater creates about one pound of trash? Consider that with the fact that there are about 40 million of them participating in this yearly tradition across the United States. That's a lot of extra trash that potentially ends up in our landfills! Did you also know that about 83 percent of those super scary costumes are made up of oil-based plastics? According to Marketplace, a division of Minnesota Public Radio, that equates to about 2,000 tons of extra plastic headed to our landfills! Not to mention the nearly one billion pounds of jack-o-lantern decorations that release methane gases as they decompose in garbage.
Those might be some scary stats, but thanks to
Harvard University's Office of Sustainabil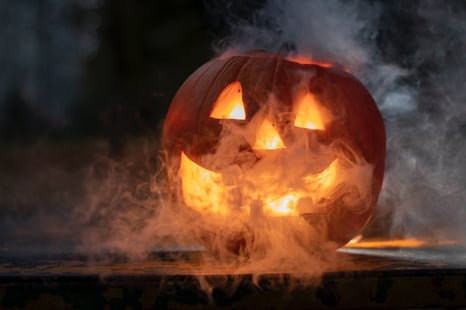 ity
, here are some ways for you to add a little green to your Halloween:
Picking Pumpkins – Opt for picking those pumpkins from a local farm rather than purchasing from a large retailer! You can also reuse the seeds for eating or planting. When you're done with those pumpkins, be sure to compost them rather than sending them to the landfill
Costumes – Instead of buying a brand-new outfit every year, consider reusing or recycling your costumes from the past! Or find a friend to swap costumes with. You can also create your own Halloween costume using products and clothes from around the house! This can save you money while keeping those extra plastics from entering the landfill!
Decorating – Most of us enjoy decorating for the holidays! For Halloween this year, consider using natural products to put up around the house, like pumpkins and gourds. You could also find scrap materials, like cardboard, to make a fun DIY craft project to create some spooky tombstones.
Parties – Hosting a Halloween party? Cutting back on your waste could be a great way to be kind to your wallet and the planet! Send some e-invites to your friends rather than hard-copy invitations. You can also use reusable glassware and utensils to serve your food! There are also compostable options if you don't want to deal with washing dishes. When making your food for the party, opt for some locally grown foods.
Trick-or-Treating – This Halloween staple is an important one, for both children and adults alike! But candy wrappers and plastic bags can prove to be a huge problem in terms of waste. To start, consider using a reusable container to hold your huge haul of candy! This could be something like an old pillowcase or even a bucket you have lying around the house – feel free to decorate them too! If you're handing out candy, maybe consider kinds made from more natural ingredients. Fruits can also be an alternative to candy, as they aren't packaged, making them easier dispose of. They also lack that hard-to-recycle wrapper we often find with candy.
Holidays are lots of fun to celebrate alongside friends and family, however they do have the potential to be incredibly wasteful. Fortunately, some companies recognize this issue and have created programs to attempt to manage the waste. According to Marketplace, Rubicon, a recycling solutions company, has launched its Trick or Trash program in which schools and businesses are given boxes to collect candy wrappers. These wrappers are sent off to be recycled into new products. Thrift stores also give people an option to give their costumes a new home. Companies, like Goodwill, encourage the donation of unwanted costumes and gives them a second life!
Whether you're in it for the candy, the costumes, or both, you should consider making your Halloween a little more green this year. By reducing our holiday waste, we can give our wallets a little break and give the planet a little breather!