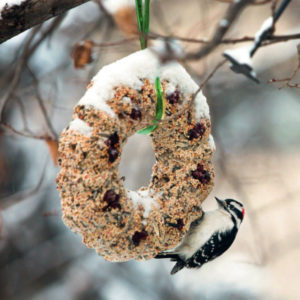 Spending time outside as a family is an incredible way to learn more about the natural world. We are lucky to live in a Valley surrounded by countless wild places. At times it often feels like we need to get in the car and drive to a trailhead to truly enjoy these wonders up close. But, that is not always the case! Having a bird feeder is a great way to get a glimpse of local wildlife right from home.
While there are countless bird feeders available at local stores; making a feeder as a family is a guaranteed memorable experience. A quick search on google will lead you to a bounty of ways to craft your very own feeder. Get creative with the materials! You can easily upcycle materials into a new bird feeder. Once your feeder is installed you will see local birds visiting in no time! Identifying the birds that visit is a great way to learn together as a family. Whether you download a free app like the Audubon Bird Guide or head to the library and get a book on birds in the area, there is much to be discovered!
While bird feeders are a great way to meet some Winter Birds we highly suggest taking feeders down around mid-March when bears start to wake up to avoid any regular visitors.
20 Great Adventures is a mini blog series by Walking Mountains Science Center's Youth Programs staff to celebrate the organization's 20th anniversary of providing natural science education to the Eagle Valley.
Rachel Zacher is the Summer Programs Coordinator at Walking Mountains. She enjoys getting outside and learning about the incredible wildlife that call the Eagle River Valley home.